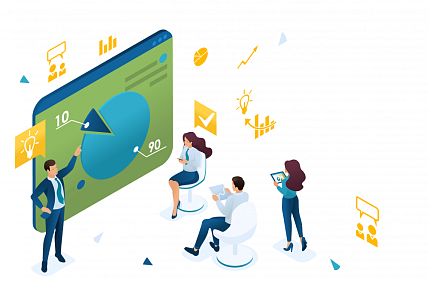 Team effectiveness is the amount of productive work a team can do if it stops being distracted from what is most important. Team effectiveness is not about productivity for productivity"s sake but rather about building a quality workspace that fosters productive teamwork in the workplace and improves productivity overall.
How do you improve team effectiveness?
To improve team effectiveness, you need to reduce the number of barriers to producing work that the team encounters daily. According to the Anatomy of Work study, people spend most of their time (60%) organizing work, including setting up various processes and software to perform tasks. Only 27% goes to skilled labor. If you improve the team"s efficiency and use quality software, you can give back to employees this time, which they can devote to the most important things.
Determine the importance of work by key results
An employee may have a dozen tasks from different projects on any given day. Each of them may seem important and urgent. Where to start? What should you devote most of your time and intellectual resources to get the job done well?
Of course, some tasks and projects are more important than others. It is precisely what it takes to have clearly defined goals and understand how the team"s work relates to them. Short-term goals form a solid foundation for long-term goals, such as a product roadmap or launch management plan. Having a clear understanding of what tasks are linked to company-wide or departmental goals is important so that everyone works cohesively and can make decisions that will positively impact the overall state of affairs.
How to link company goals and the work of specific employees
When you have a good idea of how your work relates to company goals, it will be easier for you to determine which projects and tasks are more important. According to the Anatomy of Work study, employees who understand exactly how their work impacts the organization are twice as motivated as those with no such information.
Focus on such tasks, and only then move on to less significant ones. If charges or projects are unrelated to your company"s larger and more general goals or mission, consider whether they should be done.
Delete, defer, delegate, or reduce work with a low priority.
Avoiding situations where team members have too many tasks is impossible. Their productivity will suffer without a proper system that allows them to delete, defer, delegate, or reduce low-priority work. According to a recent study, 85% of employees say they experience overload, and 42% believe team morale suffers because of too much work.
Improving team efficiency and team morale can be achieved through quality workload management. One of the easiest ways to manage workload is to remove, defer, delegate low-priority tasks, or reduce the time to complete them. Look at the big picture of the project and, after performing a needs assessment, determine what work needs to be done and which tasks are a priority:
Following the principle described in the second tip, if any part of the project is not related to the company"s overall goal, delete it.
If there is a more urgent project that is much more important to the team"s goals, put off the less important task. It can be dealt with when you have more time.
If one person is assigned two tasks of equal importance, delegate one of them to a less busy colleague.
If you have a task that cannot be postponed, deleted, or delegated, find a way to reduce the amount of time spent on it. Please eliminate the meetings associated with that task, or reduce their length or number. You can also work on the most important part of the project, leaving the rest for later.
How do I start managing my workload?
Load management is the process of distributing work within a team. To start managing your workload, it is recommended to use assistive tools to facilitate your activities one such tool is eam360, which can be found at https://www.makini.io/products/eam360. This system focuses on systematic and coordinated organizational activities aimed at optimal management of physical assets and their modes of operation, risks, and costs throughout the lifecycle to achieve and execute the organization"s strategic plans.
Help your team achieve maximum efficiency.
Improving efficiency is an ongoing process. It may seem difficult, but simple tools and techniques can improve everyone"s productivity. And when you and your team learn how to use these tools, efficiency will become routine and an integral part of any project.